Ahh, October. The lovely time of year where the chill starts to creep into the air and flights of fancy dance around the coming holidays. It's the time of year where you discover that $20 you "lost" in your sweater pocket, that your boots really should have been replaced last year, and that the easy Halloween costume your kid swore they would wear this year has been replaced with "the most amazing" (read: complicated) idea.
This year, we were going to have random princess warriors and ninja warriors using the costumes of years past for Halloween. Last night I was given the rude awakening that instead this year's creativity would revolve around a Fire Queen/Demon, Poison Ivy (the good one), and a Blue Zombie. First of all, what??? When did Poison Ivy go good? I must have missed that particular phase in the comic books. Nonetheless, it perfectly matches with my blooming botanist. The Fire Queen theme also aligns fairly well with the metamorphosis my oldest has been pushing through. Double digits are coming quickly for this young lady, and she is taking her growing up head on. The Blue Zombie really found me dumbstruck. This kid has been wanting to be a Red Ninja ever since his sister gave him the costume for his birthday. Alas, I think this one might actually be the easiest.
We spent most of the evening looking through pictures of what each costume might entail.
The Fire Queen images we found that we liked the most were these. Absolutely stunning! One day, when I grow up, I'm going to be able to sew like this!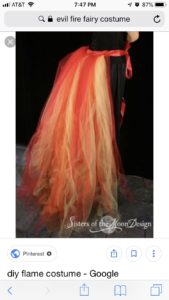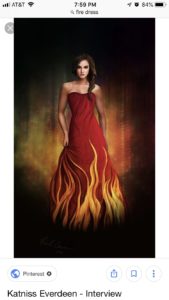 Then she drew her own ideas for the costume. Big ideas here! Notice the strings placed underneath the skirt and in the red wig to look like she is on fire. Also, the emphasis that there needs to be a comfy part of the skirt on the inside, because the tulle is itchy. I don't blame her; it really is itchy. Finish off the costume with a crown of flames and some red make up, and we're golden…or at least on fire.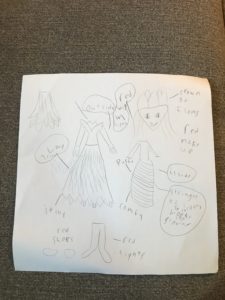 Poison Ivy, the good one, should be a little simpler. A bright green twirly dress, some green leggings, and a belt made of vines. This, I can do!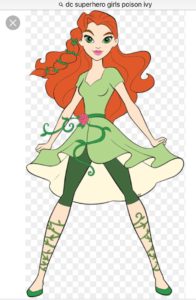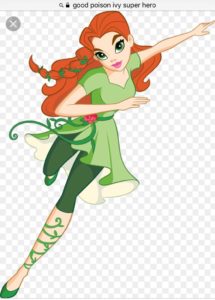 She also drew her own version of what the costume should look like. Note the emphasis on a twirly dress, with poof, of course. Tights, some slip on shoes, and "green all the way."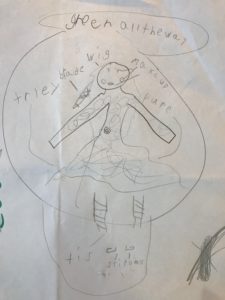 I'm glad we recently got a Michael's coupon in the mail. Now all I need is to find a couple for JoAnn's Fabric. I'm pretty sure I can make the same twirly dress for both girls, one long and in red for the the Fire Queen; one shorter and in bright green for Miss Ivy. And making twirly dresses with a circle skirt pattern shouldn't be too hard – fingers crossed of course! I wonder if I can find a bright red flat sheet for the dress. The kid is only 5'3″ so finding cloth long enough for her dresses is a pain in the tush.
The Blue Zombie is going to be a second hand store accomplishment. Find some blue jeans and a blue long sleeve shirt of some kind. Paint his face a lovely grey, and muss up his hair a little more than it usually is. See, the easy one!
What is in store for your Halloween costumes?