I finished my middle kiddo's baby blanket this weekend.  I would normally add the word "finally" in that sentence, but a good friend of mine once told me that you complete it when you complete it. When you add the word "finally" you aren't noticing the accomplishment. You're putting the emphasis on time you weren't completing the project, instead of the joy of accomplishment. And what joy there is in this accomplishment. Seeing the joy in her eyes as she picked out the trim, and then watched it come to life has been heartwarming. Now that it is finished, she is delighted to use it in all the wonderful ways a 7 year old can possibly use a blanket.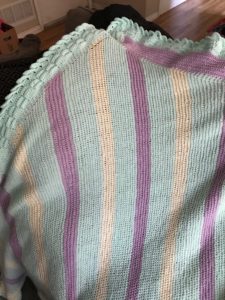 Now that it is finished, Baby Blanket #3 is ready to begin. I've always wanted to do a sampler type afghan, but never wanted to start until all the baby blankets were finished. Then, ding! The epiphany I had was to make Baby Blanket #3 be a sampler square afghan. Why I didn't think of that sooner, I'm just going to blame it on mom brain and be happy that I did come up with it.
After searching for which patterns  I wanted I came across Martin Storey's Mystery Afghan Knit-a-long. I already have yarn (not the yarn he uses, of course, that would be too easy), and the patterns he uses are not so difficult as to be daunting, and not too boring either.
Week 1 is Garter Stitch Waves. You can find the pattern here. I'm using Red Heart Yarn because it's what I had already bought. I'm using two blues, two browns, and a variegated yarn. He doesn't use variegated yarn in any of his squares, so I'm not really sure how I'm going to add that in, but I'm sure I will figure it out. As I finish each week I'll post pictures and comments here. If you're joining me, I'd love to see your work in the comments! Happy knitting!